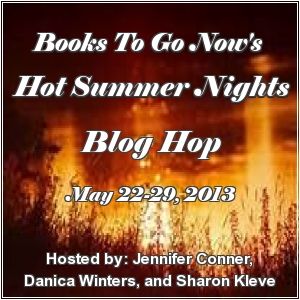 Welcome to the Books To Go Now Hot Summer Nights Blog Hop! This hop will run from May 22-29 and feature many authors and bloggers all giving away great prizes!
So what are the prizes?
There will be two grand prizes awarded to two randomly drawn winners:
1st Grand Prize: (1) Kindle Fire!
2nd Grand Prize: (1) $100 Amazon Gift Card
To be eligible to win the grand prize, you MUST leave a comment with a valid email address.
For my prize on this stop of the hop, I am giving away to one lucky winner, a fabulous pair of handmade earrings, and a limited-edition Back To You perfume! How cool is that? Back To You is my contemporary romance available now at Amazon through Books To Go Now.
To enter my stop on this hop, please use the Rafflecopter. As always, my contests and giveaways are open to International shipping, so everyone is eligible to win.
If you already follow me, you can still use the Rafflecopter for entires.
When you have finished entering, use the Linky list to move on to the next great blog for even more chances to win!
a Rafflecopter giveaway